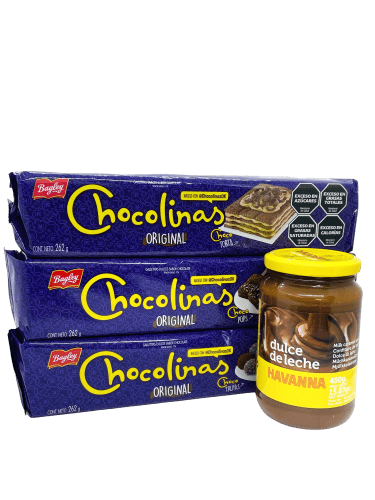 Chocotorta Maxi Pack - Chocolinas and Havanna Dulce de Leche
Indulge in the rich flavours of Argentina with this decadent cake, a beloved classic that's sure to satisfy your sweet cravings!
Chocotorta is one of the most traditional desserts in Argentina. This mouthwatering treat boasts layer upon layer of tender Chocolinas - chocolate biscuits - generously filled with the velvety delight of dulce de leche. Each bite is a symphony of textures and tastes, as the moist cake harmonizes with the creamy, caramel goodness of the dulce de leche.

Head to our Blog for the recipe!
This pack includes: Chocolinas 262g X3 (Best Before 25/Jul/24), Havanna Dulce de Leche 450g (Best Before 2025)
Share