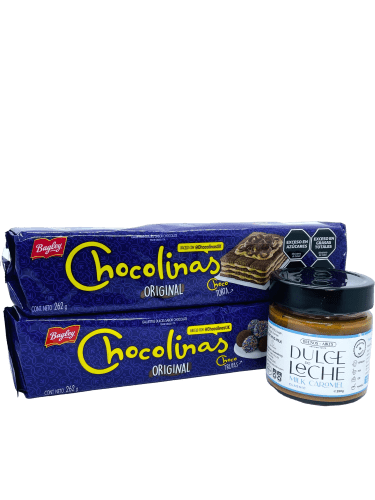 Chocotorta Mini Pack - Chocolinas and Buenos Aires Artisan Dulce de Leche
Experience the sweet symphony of Argentina with the traditional Chocotorta, a heavenly cake that captures the essence of dulce de leche perfection! 
Chocotorta is one of the most traditional desserts in Argentina. This mouthwatering treat boasts layer upon layer of tender Chocolinas - chocolate biscuits - generously filled with the velvety delight of dulce de leche. Each bite is a symphony of textures and tastes, as the moist cake harmonizes with the creamy, caramel goodness of the dulce de leche.

Head to our Blog for the recipe!
This pack includes: Chocolinas 262g X2, Buenos Aires Artisan Dulce de Leche 250g
Share